Ebbene sì! Ian Somerhalder fa un passo indietro e torna al mondo dei vampiri.
The Hollywood Reporter ha rilasciato la notizia che il bell'attore 39enne, conosciuto e super apprezzato nel ruolo di Damon Salvatore, sarà il protagonista del nuovo dramma vampiresco targato Netflix, V-Wars.
La serie in 10 episodi è un adattamento Netflix basato sull'omonimo romanzo, V-Wars, pubblicato dalla casa editrice di fumetti IDW, scritto dall'autore di best-seller del New York Times, Jonathan Maberry. Sarà diretta e prodotta da Bred Turner (Stargate, Stargate Atlantis) insieme al presidente di IDW Entertainment David Ozer e l'amministratore delegato di IDW Ted Adams.
"Non potevamo sognare una scelta migliore di Ian Somerhalder  per guidare il cast di V-Wars e dare una forza creativa alla serie, vista anche la sua comprensione del genere grazie ai suoi anni passati sul set di The Vampire Diaries. Ian darà una mano anche alla regia della serie. Personalmente siamo entusiasti di lavorare a fianco di Netflix per portare all'attenzione mondiale il multisfaccetato mondo creato da Jonathan Maberry."
Ha affermato in un'intervista proprio Ted Adams.
La trama
La premessa dei libri si sviluppa intorno a un misterioso virus che comincia a trasformare gli umani in predatori assetati di sangue che preparerà il campo per una guerra noi-vs-loro.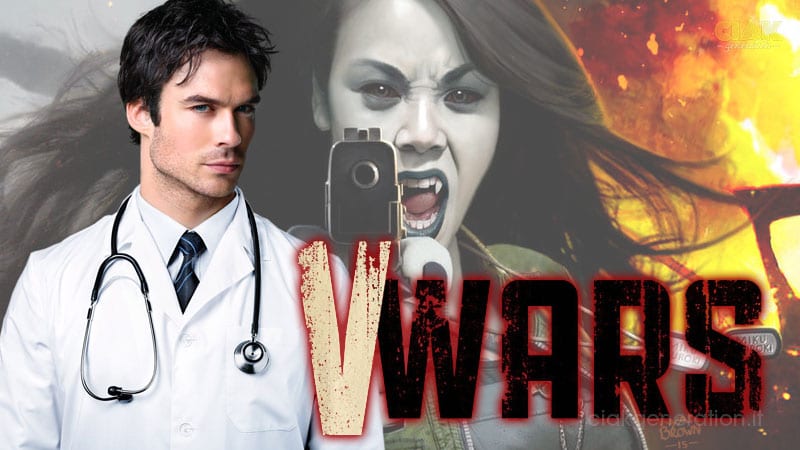 V-Wars, la serie, si evolverà attorno alla figura del dottor Luther Swann (Somerhalder), che entra in un mondo di orrore quando una misteriosa malattia trasforma il suo migliore amico, Michael Fayne, in un predatore assassino che si ciba degli esseri umani. Man mano che la malattia si diffonde e più persone vengono trasformate, la società si frantuma in campi opposti mettendo le persone normali contro il crescente numero di vampiri. Swann corre contro il tempo per capire cosa sta succedendo, mentre Fayne vuole diventare il leader incontrastato dei vampiri.
Curiosità
V-Wars venne annunciata per la prima volta nel 2014 come parte di un accordo che includeva diverse serie TV con  Entertainment One. Ma ora quella compagnia, così come lo scrittore originale della serie e i produttori di Circle of Confusion, non fanno più parte dell'accordo.
Per Ian, inoltre, V-Wars arriva un anno dopo il suo addio alla serie targata The CW, The Vampire Diaries, dopo otto anni di successo. Ma il suo addio non è stato definitivo, infatti egli ha attualmente, insieme alla moglie Nikki Reed, un accordo con i produttori di The Vampire Diaries, la Warner Bros Television, per un banner televisivo che vedremo prossimamente.
Beh, che dire?! Non ci resta che aspettare e vedere come se la cava Ian, stavolta nei panni di un umano che combatte i vampiri. Sicuramente, avremo stragi di cuori anche sotto questa veste.
---
Non dimenticate di lasciare un mi piace alla nostra pagina Facebook! 🙂
Subtitles On Demand sta cercando collaboratori! Più informazioni QUI.