Eccoci tornati su questa "rubrica" in cui vi consiglio serie TV da guardare questa estate perché sicuramente non avete niente di meglio da fare (mare? sole? vita sociale? sono tutte brutte parole).
Se non siete proprio amanti dei viaggi nel tempo futuro o recente passato, però adorate le ambientazioni simil-medievaleggianti con gli intrighi di corte, queste sono le serie TV che non potete lasciarvi scappare. Al solito lasciate scritto nei commenti se le avete già viste, cose ne pensate e se ne consigliate altre.
Reign Serie a sfondo storico su Maria Stuart e la guerra con sua cugina Elisabetta per il possesso della Scozia. Molto bella (anche se l'abbigliamento non è molto preciso) e godibile anche se la storia è già stata studiata a scuola, anzi, nonostante si sappia già il finale lo spettatore spera che gli sceneggiatori abbiano cambiato le vicende servendosi della licenza poetica. Bisogna vedere fino a dove si spingerà la serie: Maria verrà decapitata? O se ne infischieranno di tutto e la faranno regnare sulla Gran Bretagna? Nel frattempo non possiamo fare altro che augurarle di regnare a lungo…
Game of Thrones Quando si gioca al gioco del trono o si vince o si muore, non esistono terre di nessuno. Questa è l'unica regola che tutti i nobili di Westeros conoscono, l'unica legge che vale nei Sette Regni, non importa se abiti vicino la gelida Barriera o nel caldo Approdo del Re, sei consapevole di poter essere tradito da un momento all'altro, gli amici veri non esistono, solo alla tua famiglia importa di te, forse… Se credete di essere più abili di tutti e di riuscire a sopravvivere nell'appiccicosa ragnatela che è la corte della Fortezza Rossa mettetevi alla prova guardando questa serie. NOTA: non è per persone facilmente impressionabili e soprattutto LIBRO>>>>>>serie TV.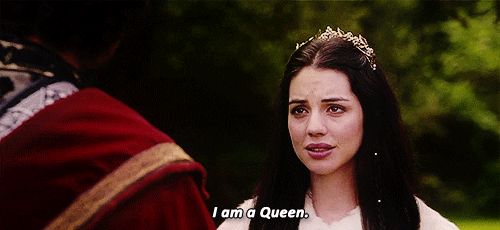 The White Queen  1464, York e Lancaster si sfidano per il predomino dell'Inghilterra. Scontata? Risultato già conosciuto? Se fosse davvero così allora non esisterebbero più romanzi o film a tema storico. Se vi piacciono gli intrighi alla corte britannica non potete lasciarvela sfuggire.
I Tudors – Scandali a corte Sempre sul filone "corte inglese" (come mai poi la dinastia inglese avrà tutto questo fascino? Sarà che le serie se le producono loro?) in questa serie troviamo un po' tutti i sovrani delle varie nazioni, Francia, Spagna, ovviamente Inghilterra. Al solito, fingete di non conoscere la Storia e lasciatevi travolgere dal vortice di passioni e intrighi.
I Medici Perché sì, una serie sugli intrighi di palazzo l'abbiamo anche noi, o meglio l'avremo non appena uscirà (autunno/inverno) e una tantum non ripercorreremo le vicende di come la Gran Bretagna è diventata quella che è, ma saremo in territori nostrani e scopriremo come ha fatto la famiglia dei Medici ad ottenere la supremazia su Firenze, perché saranno anche stati Magnifici e amanti delle belle arti, ma il potere lo avranno mica preso chiedendo "per favore"?
---
Non dimenticate di lasciare un mi piace alla nostra pagina Facebook! 🙂
Subtitles On Demand sta cercando collaboratori! Più informazioni QUI.